Indlæg i "Redwood Falls Gazette" den 6. juli 2004:
In February of 1973, Danish-born Jorgen D. Jensen boarded a Greyhound bus in North Dakota. Eight hours later, he was welcomed into his new American home on the Richard and Betty Lou Woelfel farm near Seaforth.
This weekend, after a 31-year-long absence, "JJ" has returned to Redwood Falls. JJ, the husband of Ulla and father of 20-year-old Svend and 18-year-old Niels, now heads a staff of six teachers who work with 10th grade students.
His former classmates in Redwood Falls may find JJ's teaching career surprising.
"I don't suppose I was concentrating on my studies all the time I was in Redwood Falls," JJ said with a grin. "I don't think that was my primary focus here."
JJ said living in a new country as a foreign exchange student is a wonderful way to open one's eyes to another way of life.
JJ, however, was somewhat familiar with American culture before he arrived in the Midwest. Jeanette Woelfel (daughter of Richard and Betty Lou) spent the summer of 1972 in Denmark. She stayed with the farm family of Johannes and Emmy Jensen. At the same time, their oldest child – JJ – was applying to come to the United States.
By the time Jeanette left Denmark, she and the Jensen children already referred to each other as sisters and brother.

Samtale med journalisten
Upon arriving in Redwood Falls the following winter, JJ immersed himself in the local culture.
Jeanette would go into town and put me off at main street," he said, chuckling. "I would walk around town until somebody picked me up."
"There would be a car-full of girls and JJ would pile in and go cruising," classmate Terri Larson Simon recalled.
"I was just thrown into everything," JJ related. "As an exchange student, I was invited into the culture.
"Then, all of a sudden, there you are – standing on the golf course," he smiled. "That wouldn't happen at home."
In fact, JJ added, he's yet to play golf in Denmark.
As a teenager in a foreign country, JJ learned to think on his feet – and land on his feet.
"There was a situation where I couldn't get home," he said. "I had gone to a party and the one who drove could not drive home.
"I called my American Mom and said 'what should I do?'"
In that case, the answer was to drive – very slowly and carefully – home.
"That was the only time I drove in Minnesota," he said. "(As an exchange student) I was not supposed to have a license."
"Otherwise," classmate Terri added, "all the memories are fond memories."
JJ has kept in close contact with the Woelfel's through the years, but it's only been recently – via the Internet – that he's caught up with Terri Larson.
This past spring, JJ learned he had the opportunity to attend a conference on housing issues at the University of Toronto.
"Besides being a teacher," he explained, "I work on housing issues as a volunteer.
"When the trip to Toronto was planned, I was quite sure that I didn't want to leave and go back to Europe without fulfilling many years of dreams of revisiting Redwood Falls and the Woelfel family," JJ said.
On June 28, JJ was met at the Minneapolis/St. Paul airport by Jeanette Woelfel, her husband Bobby Cooke, and Terri Larson Simon. One of the first stops in Redwood Falls was a walk downtown.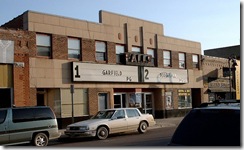 The movie theater, Redwood Falls, Minnesota summer of 2004.
"I stopped at the movie theater, bought a pop and shortly introduced myself," he explained.
"The last time there was at a midnight movie in connection with Prom 1973.
"It's kind of weird, like reconnecting a ribbon back into one's youth."
Those days in 1973 were good days, he added.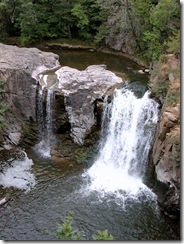 Ramsey Park, Redwood Falls, Minnesota summer of 2004.
"It was a crazy and exciting life, being an American teenager," JJ said. "I went swimming in the quarries, picnicked in Ramsey Park, went to dances and parties. At the same time, I was going to Catechism at the Catholic church in Seaforth – without being a Catholic or religious-acting person, myself."
JJ appreciated the opportunity for sharing discussions, feelings and experiences while trying to understand what life was all about.
"I even kissed the first girl in my life here in Redwood Falls," he said with a grin.
"I don't know if she would know she was the first – I didn't tell her then and I don't think I'll tell it in the newspaper now."
Classmates and friends will have a chance to reconnect with JJ (and maybe find out if they were that first kiss) as there will be an open house at Phyllis Larson's home, 225 West Chestnut Street, from 2 until 5 p.m. on Monday.
JJ will be returning to Denmark Tuesday.
Gemt Under USA // Kommentarer lukket til JJ is back in town (Redwood Falls, Minnesota)
Kommentarer: Skriv din mening!